The Battle is not Yours but the Lords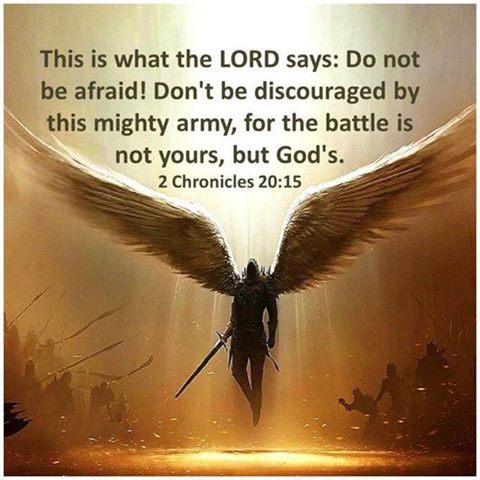 By Peg Yarbrough
Hearken ye … Thus saith the LORD unto you,
Be not afraid nor dismayed by reason of this great multitude; for the battle is not yours, but God's.
II Chron. 20:15
One day I got a call from a close friend with a number of major opportunities to believe God (one in particular was very serious, even life threatening).
When she called me on her cell phone she was on a mountain road that had a dead zone, a " No Service" area. While I was praying for and ministering to the situations, she traveled through that same "No Service" zone where her calls drop EVERY time. But our God miraculously held the connection for us, and the call did not drop, there wasn't even any static on the line!
Here's the deal: God can work when your cell tower doesn't!
God can work through the "dead zone" to bring His life giving power into ANY situation when we put our trust in Him.
Within a few days ALL of her prayers were answered, and God's healing glory was manifest in ALL of the situations – every single one.
Never forget your battles are the LORD's battles. Don't try to fight the devil on his turf, bring that thief before the throne of God Almighty, and deal with him there, in God's presence. That's the place of power. That is where Satan's mayhem can be stopped in its tracks!
Remember: God Almighty, the Lord Jesus, and the host of heaven's armies are on YOUR side, and are constantly working on your behalf, even when you are asleep. (What a comfort.) They will do whatever it takes to bless your life and turn your situation around and bring you victory; from the biggest to the smallest detail.
Like the Good Book says: Casting all your care upon him; for he careth for you. 1Pet. 5:7
Only God can take what the devil means for your harm, and turn it to good!
Remember: In all these things we are more than conquerors through him that loved us. Rom. 8:37
The battles in life are not MINE but the LORD'S. I thank you Lord for this tremendous reality!
Trusting Him,
Peg